U-PAK Vancouver
Vancouver, BC
Ask about FREE delivery
Photos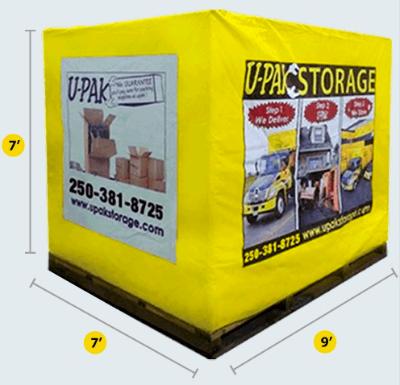 About U-PAK Vancouver
Secure mobile storage lockers delivered to you anywhere in Vancouver Lower mainland. Various sizes, free delivery on 3 month storage commitment. Cheapest storage solutions start at $79/mo (medium size), larger sizes at $159/mo. Order two and the second one is only $100/mo. Unlimited Access, Drive Up Access. Various sizes. 

Limited space & availability, call no and ask about free delivery.
Features
Climate Control
Drive-up Access
24/7 Security Monitoring
Payment Options
Mobile Storage Containers
Facility Reviews
---
Upak is a simple storage company, with 2 sizes of mobile wooden storage lockers and 3 sizes of permanent metal ones. The staff there were amazing though. The guy in the warehouse was super helpful with helping me get into my locker and pack it safely, and the driver guy was very knowledgeable and helpful with the delivery to my place. Decent product with a stellar staff.
---
Effortless storage, great for moving, as you pak locker yourself, no helpers needed. They pick up locker and deliver it to your next place ortake to warehouse for storage. Less stress, access to your belongings is possible with 24 hrs notice.
---
We put our items into a UPak box back in November 2021 and got it back in March. We moved from Vancouver to Victoria, so it this service very convenient for us. Spoke with 2 ladies, both extremely nice and patient with explaining all the info. It was Mercedes who booked us in and it was Janet who I dealt with when had to access our box and arrange drop off. Do the math on hiring a moving company or a UHaul to cross on the ferry. So no brainer from that perspective. I read all the reviews, some good, some bad and I was worried I must admit. But we took a punt on it. You have to make sure you know what it covered in case of damage. UPak are pretty much not liable for most things, so read the fine print. But this is the same for any physical storage space too. Like damage to contents by rodents, responsibility falls on the tenant of the unit. We went for the optional extra insurance done through a 3rd party called - Cowen, which was $140. This meant the contents of our locker were insured from 5K to 20K. Getting the box at our new home went well, they dropped it off on time and picked it up when we wanted it gone. So no complaints there. All round we were happy with the service.
---
So far everything has been pretty smooth.. Customer service reps were super friendly and upbeat... Rates are far more affordable then any of the other storage facilities I've used for way more space so that is always a plus... The delivery guy did what I needed him to do and was quick about it.. So now all that is left is the pick up and if it was anything lie this part of the process I'll be singing their praises.. 🤞